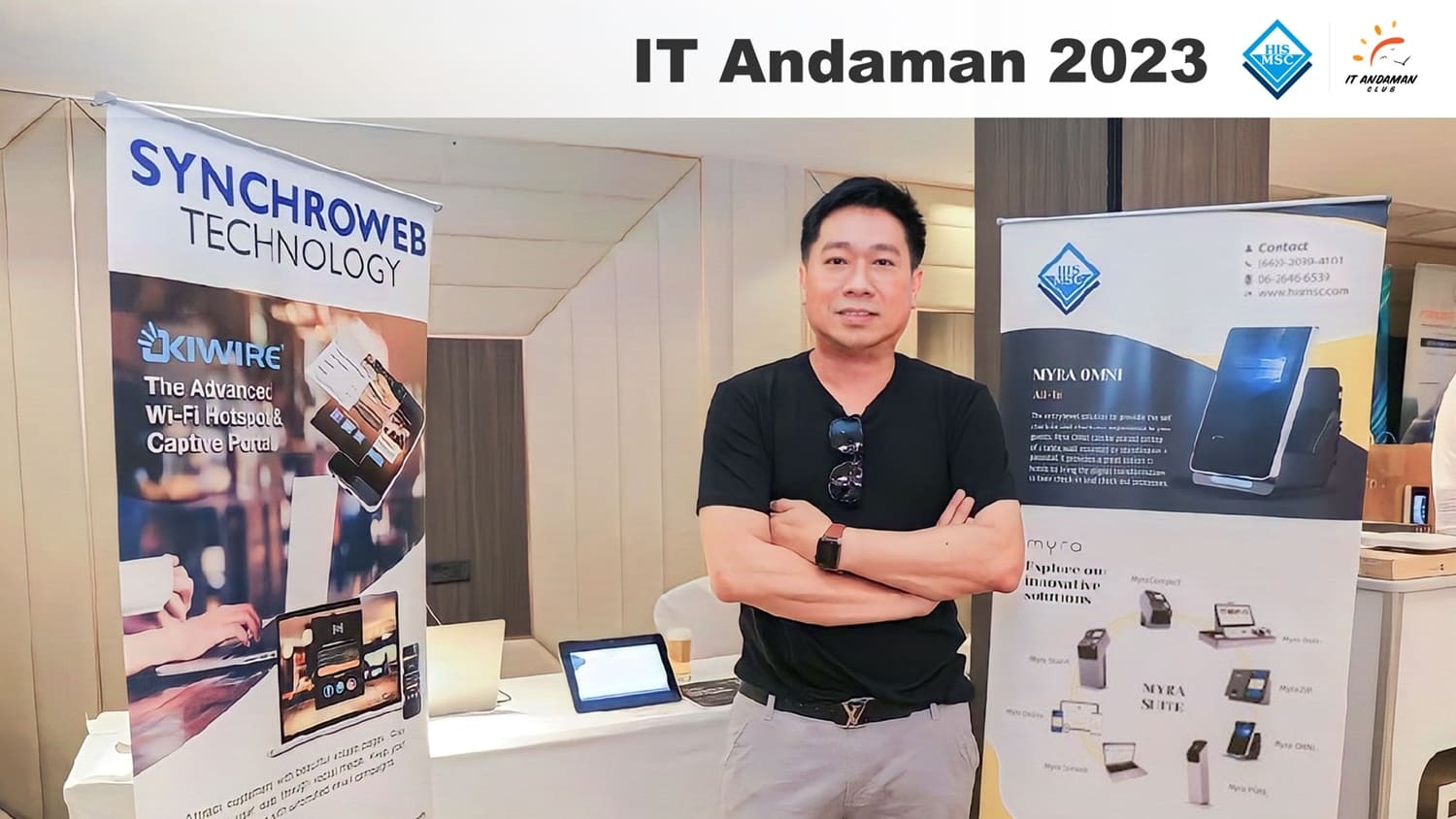 Mr. Phusith Arunrattanadilok, Vice President of HIS MSC Company Limited and HIS MSC Management Team organized a booth to presented "MYRA Product", the hotel KIOSK Self Check-in, Infor Hospitality Management Solution (HMS™) and SYNCHROWEB Technology, including technology solutions for all aspects of hotel management at IT Andaman 2023 on May 6, 2023, at the Pearl Hotel, Phuket.
MYRA provides the innovative solutions of Myra Stand, Myra Compact, Myra Bolt, Myra ZiP, Myra OMN, Myra PURE Myra Console and Mira Online. It provides a great option to hotels to bring the digital transformation to their check-in and check-out processes.
Infor® Hospitality Management Solution (HMS) is a hotel PMS built in the cloud to consistently meet and exceed modern guest expectations. With Infor HMS, hospitality organizations can better manage operations, deliver exceptional guest services, and provide a rich experience for all. The solution provides scalability that can help meet your present needs, along with whatever the future brings.
SYNCHROWEB Technology or Kiwire is a single platform that enables your customers to offer guest or user, Wi-Fi or network access. Using a customizable splash portal, powerful proximal and targeted marketing, advertising, and analytics applications, they can provide an engaging Wi-Fi and network experience.
Since founding in 1991, HIS MSC, a joint venture between Infor from the United State of America and Metro Systems Corporation Public Company Limited (known as MSC) offers comprehensive technology solutions to address management requirements for all aspects of hotel operation from small single properties to large international chain hotels.
"HIS MSC offer top quality products and services with superior professionalism to empower our customers' growth with sustainable success."
For more information, please contact Mr. Phusith Arunrattanadilok Call: 062-646-6539 Email: phusith@metrosystems.co.th, website :https://www.hismsc.com/